I first made a batch of coconut black beans and I was AMAZED at how good they are! They so versatile, they can be used in stir fries, tacos, even salads, which inspired to make this tropical and refreshing salad. Crunchy romaine, sweet mango and buttery avocado pair perfectly with coconut black beans and a sweet and tangy coconut lime vinaigrette. Enjoy!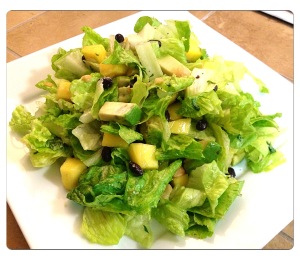 Ingredients:
    For the Salad:
3 cups romaine lettuce, chopped
1 small mango, cubed
1/2 avocado, cubed
2 tablespoons roasted macadamia nuts, chopped (unsalted)
1/4 cup coconut black beans (ingredients listed below)
For the Coconut Black Beans* (this will make a big batch. I recommend making the whole recipe and freezing leftover beans, they're delicious!):
1 cup dried black beans
1 cup coconut water
1/2 tablespoon coconut oil
1/2 lime, juiced
Salt
For the Vinaigrette:
1/2 tablespoon fresh lime juice
Pinch of fresh lime zest
1 tablespoon coconut oil (melted)
1 tablespoon fresh cilantro, chopped
Agave (just a squeeze)
Salt and pepper, to taste
Directions:
The night before you'd like to serve your salad, soak the coconut black beans. Rinse your black beans and soak them overnight in a large bowl, making sure beans are completely covered with water (plus a little extra water).
After the beans have soaked for 8 hours or so, drain them and give them a rinse. Pour beans in a large saucepan and cover with 1 1/2 cups cold water and 1 cup coconut water. Cover, bring to boil, then reduce heat to simmer and cook for 35-45 minutes until beans are tender (rule of thumb to test your beans is to try 5 beans, this will ensure the whole batch is done).
If necessary, drain excess water and return beans to pan (do not rinse beans). Season with 1 teaspoon salt, 1/2 tablespoon coconut oil and lime juice. Mix well and set aside to cool.
To make your salad, first make the dressing: in a small bowl whisk together lime juice, zest, coconut oil, cilantro, agave and a pinch of salt and pepper. Set aside.
In large bowl toss lettuce, cooled black beans, mango, avocado and macadamia nuts. Drizzle with vinaigrette and toss well. Serve.
Makes 1 large salad
Copyright Kameron Tunila (Food to Thrive)
*Coconut Black Bean recipe slightly adapted from Damaris Phillips.