Leftover breakfast potatoes from brunch? Load 'em up with zucchini, onion, bell pepper and squash for a nutrient dense and filling hash, perfect for any meal!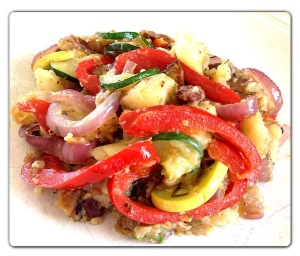 Ingredients (quantities depend on how many potatoes you have. Use as much or as little as you'd like!):
Leftover potatoes from brunch (mashed, chunks, whatever!)
Zucchini
Squash
Onion
Bell pepper
Onion powder
Granulated Garlic
Red pepper flakes
Sharp cheddar, shredded
Salt and pepper, to taste
Additional flavorings (optional): fresh rosemary, garlic, parsley
Directions:
Heat a skillet over medium heat. Add onion, zucchini, squash, bell pepper and season with onion powder, granulated garlic, red pepper flakes, salt and pepper, and any additional flavorings you'd like.
Once vegetables are cooked, toss in leftover potatoes and continue cooking until heated through. Top with shredded cheddar and enjoy!
Copyright Kameron Tunila (Food to Thrive)