This is one of my favorite go to stir fry recipes. Delicious fresh ginger, garlic and tamari all combine together for a flavorful, satisfying dish that's super healthy and full of nutritious veggies and protein. If you're not a tofu eater, you can always sub chicken, shrimp or beef. Fast, simple, delicious; now that's my kind of weeknight meal!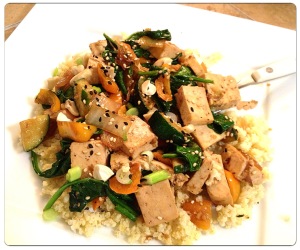 Ingredients:
8 oz super firm tofu
Extra virgin olive oil
Toasted sesame oil
1/2 cup diced yellow onion
1/2 cup diced bell pepper (I prefer a mixture of red, yellow and orange)
1/2 cup diced zucchini
2 tablespoons thinly sliced shallot
3 cloves garlic, minced
2-3 teaspoons freshly grated ginger (if you don't have a microplane, you can mince the ginger)
Rice wine vinegar
Low sodium tamari or soy sauce
2 cups baby spinach
1 scallion, thinly sliced (white and light green portion only)
Toasted sesame seeds, to garnish
Chopped cashews, to garnish
Brown rice or quinoa to serve with stir fry
Salt and pepper, to taste
Directions:
Drain 8 oz of super firm tofu. Set on a clean kitchen towel, and top with another kitchen towel (or paper towels). Weigh down by putting a pan on top of the covered tofu, and placing something heavy like a can of beans or tomatoes on top. This will place extra pressure on the tofu and help it excrete extra moisture and firm up without falling apart in your stir fry. Weigh down for about 20 minutes on each side. After tofu is done draining, cut into bite sized cubes and set aside. (If you like your tofu a little soft, you can always skip this step. If you're pressed for time, this step can be done ahead of time and the drained tofu can be placed back in the fridge until it's time to cook.)
Heat a medium skillet over medium heat. Add a dash of olive oil and a dash of sesame oil. Add diced onion and saute until onions begin to soften, about 3-5 minutes.
Add in diced bell pepper and zucchini, and season lightly with salt and pepper. Saute for another 4 minutes or so, then add in the sliced shallots and cubed tofu. Continue to saute for another 2 minutes.
Toss in minced garlic, grated ginger, and a dash of rice wine vinegar. Using your spatula, lightly scrape the bottom of the pan as you continue to saute. This will loosen up all the browned bits on the bottom, which equals more flavor!
Add spinach and tamari (depending on how much you like), and cook until spinach starts to wilt, approximately 2-3 minutes.
Serve stir fry over brown rice or quinoa, and top with sliced scallion, toasted sesame seeds and chopped cashews.
Enjoy!
Makes 2 servings
Copyright Kameron Tunila (Food to Thrive)