I love quinoa… I love mango… and I love avocado. So, why not combine all of these delicious ingredients together for a perfect little quinoa salad? That's how I created this simple yet satisfying dish; it's refreshing with a hint of sweetness, and full of vitamins, minerals and healthy fat. Dig in!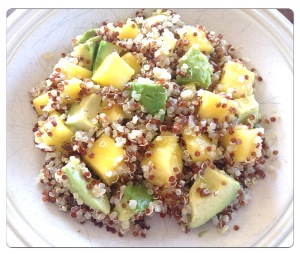 Ingredients:
For the salad:
1 small mango, peeled and cut into cubes
1/2 avocado, peeled, pitted, and cut into cubes
3/4 cup cooked quinoa
For the dressing:
1/2 tsp fresh lime zest
1 tablespoon lime juice
1 tablespoon good quality olive oil
Agave
Salt and pepper, to taste
Directions:
Make the dressing: in a small bowl whisk together lime zest, lime juice, olive oil, a squeeze of agave, and a pinch of salt and pepper.
In a separate bowl gently mix together quinoa, mango and avocado. Drizzle with 1.5 teaspoons of vinaigrette and toss (you can always add more vinaigrette if you'd like). Serve at room temperature.
Makes 1 Serving
Copyright Kameron Tunila (Food to Thrive)