I LOVE Moroccan food. The spices are absolutely amazing and add SO much flavor to any dish. Every time I make a tagine, I always include some sort of dried fruit, it just pairs so wonderfully with the fragrant Moroccan spices. I thought it would be interesting to roast tofu and chickpeas in a luscious Moroccan spice blend, and top it with a fresh homemade apricot and avocado salsa to compliment the sweet and savory flavors. I was amazed at how delicious these tacos were; even my meat-eating friend loved them! They're filling and loaded with healthy thermogenic spices such as cinnamon and cayenne. All the more reason to dig in!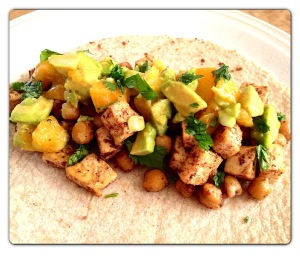 Ingredients:
For the filling:
8 oz extra firm tofu
1 15 oz. can chickpeas, rinsed and drained
2 tablespoons fresh lemon juice
2 teaspoons sugar
3 teaspoons ground cumin
1 teaspoon ground coriander
1/2 teaspoon ground cinnamon
1/2 teaspoon salt
1/4 teaspoon pepper
2 tablespoons olive oil
4 half corn, half wheat tortillas (trust me, they're SO good. If you can't find them, you may use any tortilla you prefer)
For the salsa:
3 fresh apricots, cut into small chunks
1 avocado, cut into small chunks
1 scallion, thinly sliced
1 lime, to juice
1 tablespoon fresh cilantro, roughly chopped
Salt and pepper, to taste
Directions:
Preheat the oven to 425 degrees.
While the oven is heating, place your tofu on a folded up paper towel, or clean kitchen towel, and top with another paper towel. Place a pan on top of the covered tofu and place a can inside the pan; this will weigh down the pan and cause the tofu to excrete any excess moisture, making it perfect for roasting. After 15-20 minutes, flip over and complete the same process.
After the tofu is done draining, cut into bite sized cubes and place in a large bowl. Add the chickpeas, lemon juice, sugar, cumin, coriander, cinnamon, olive oil, salt and pepper. Toss all ingredients together until tofu and chickpeas are coated with the spices, then pour onto lined baking sheet and roast for 20 minutes, stirring around halfway through.
While tofu and chickpeas are roasting, make your apricot avocado salsa: in a small bowl combine apricots, avocado, scallion, 3/4 of a lime, juiced, cilantro, and a pinch of salt and pepper. Mix gently and set aside.
Once tofu and chickpeas are done roasting, top tortillas with a 1/4 each of the tofu and chickpea mixture and the apricot avocado salsa. Enjoy!
Makes 4 tacos
Copyright Kameron Tunila (Food to Thrive)