Dairy-free, gluten-free and vegan friendly, this salad is anything but boring. Sweet edamame, crunchy peanuts, spicy ginger and a savory Asian vinaigrette all mix together for a delightfully light yet satisfying salad. Filled with protein, healthy fat, and low glycemic carbohydrate, this dish is perfectly balanced to keep you energized throughout your busy workday. Plus, ginger is a great anti-inflammatory and can help to ease muscle pain and nausea, all the more reason to dig in!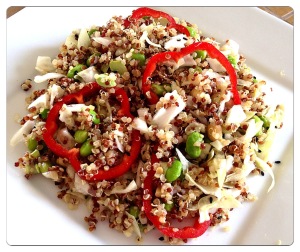 Ingredients:
For the salad:
1 cup cooked and cooled quinoa
1 cup shredded green cabbage
1/3 cup edamame, defrosted
6 thinly sliced bell pepper rings (I prefer red, yellow or orange)
1 scallion, thinly sliced, white and light green parts only
1 tablespoon dry roasted peanuts, chopped
Toasted sesame seeds, to garnish
For the dressing:
1 teaspoon toasted sesame oil
1 teaspoon olive oil
1 teaspoon rice vinegar
1 teaspoon tamari (or regular soy sauce)
3/4 teaspoon freshly grated ginger
3/4 teaspoon honey
Pepper, to taste
Directions:
To make dressing: in a small bowl whisk together sesame oil, olive oil, rice vinegar, tamari, ginger, honey and a pinch of black pepper. Set aside.
In large bowl toss quinoa, cabbage, edamame, bell pepper, scallion, peanuts and a sprinkle of sesame seeds. Drizzle with vinaigrette and toss until all ingredients are combined. Drizzle with more sesame seeds, if desired. Serve at room temperature.
Makes 1 serving
Copyright Kameron Tunila (Food to Thrive)