I am always looking for creative ways to make delicious, healthy tacos. Since butternut squash is at it's prime for the season, I thought roasting it with smoky spices and topping it off with a fruity slaw would be a fabulous combination, and it was! If you're not a pomegranate lover, you can always use regular salsa, which is just as delicious. These tacos are filling and full of antioxidants and essential vitamins such as potassium, Vitamin C and B6, and a wonderful change from the traditional meat tacos. Try 'em out tonight!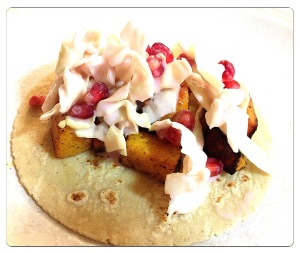 Ingredients:
For the tacos:
1/2 butternut squash, peeled, seeded,, and cut into medium chunks
1/2 teaspoon ground cumin
1/4 teaspoon ancho chili powder
1/4 teaspoon salt
1/4 teaspoon pepper
1 lime, to juice
Olive oil
4 Small tortillas (I highly recommend half corn half wheat tortillas. The texture is amazing)
For the slaw:
2 cups shredded green cabbage
4 tablespoons pomegranate seeds
1/2 lime, juiced
1/4 cup plain yogurt
2 tablespoons pomegranate juice
Salt, to taste
Directions:
Preheat oven to 400 degrees. While oven is heating up, toss your butternut squash cubes with a good drizzle of olive oil, the cumin, ancho chili powder, salt, pepper and lime juice. Toss until all pieces are coated, and roast for 30 minutes, flipping halfway through.
While butternut squash is roasting, make the slaw: in a small bowl mix together cabbage, pomegranate seeds, lime juice, yogurt, pomegranate juice and a pinch of salt. Mix well. If needed, add more yogurt or pomegranate juice to the mixture. (If you choose to use salsa instead of making the pomegranate slaw, simply mix cabbage with prepared salsa).
Once squash is done roasting, split between tortillas, and top with a generous helping of pomegranate slaw. Serve hot.
Makes 4 small tacos
Copyright Kameron Tunila (Food to Thrive)