When I studied abroad in college, I had the pleasure of visiting Greece for 10 days, which turned out to be one of the most amazing places I have ever been. The people, the food, the culture, the beauty… all of it was amazing, and I cannot wait to go back. While in Greece, I absolutely fell in love with Greek salads (I literally ate them every single day I was there), and while this rendition isn't the traditional Greek salad, I thought I would punch it up a bit by adding protein-loaded chickpeas, a lemony vinaigrette and fresh parsley for added brightness. Turned out to be delicious, perfect as a complete meal or hearty side dish. Hope you enjoy!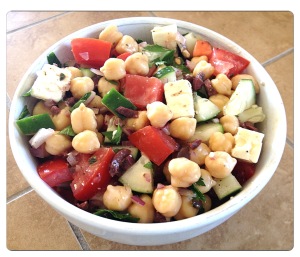 Ingredients:
    For the salad:
3/4 cup chickpeas
1/2 cup cucumber, cut into medium sized chunks
1/2 cup tomato, cut into medium sized chunks
5 Kalamata olives, roughly chopped
2 tablespoons minced red onion (I shocked mine in cold water for 5 minutes to remove some of the bite of raw onion)
2 tablespoons fresh flat leaf parsley, roughly chopped
1/2 cup cubed feta
For the vinaigrette:
1/2 clove garlic, grated
1/2 teaspoon dried oregano
1/2 teaspoon dijon mustard
1/2 tablespoon red wine vinegar
1 tablespoon lemon olive oil (if you don't have lemon olive oil you can use regular olive oil and add a bit of fresh lemon juice)
1/4 teaspoon raw agave
Salt and pepper, to taste
Directions:
To make the dressing: in a small bowl whisk all the vinaigrette ingredients together until combined. Set aside.
In a large bowl toss chickpeas, cucumber, tomato, olives, onion, parsley and feta. Drizzle with vinaigrette and toss until combined. Serve at room temperature and enjoy!
Makes 1 large serving
Copyright Kameron Tunila (Food to Thrive)