Lately I've been craving breakfast burritos. Like, nonstop. Not wanting to derail my whole day's worth of calories, I whipped up this delicious health-ified version this morning. Hearty, filling, and full of flavor, these breakfast burritos were just perfect to satisfy my never-ending craving, loaded with veggies, eggs, and fresh roasted potatoes. Happy Saturday!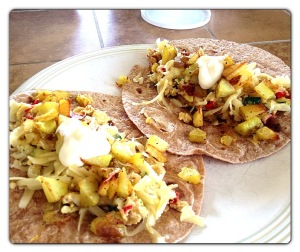 Ingredients:
1 yukon gold potato
1/4 cup diced onion
1/4 cup diced red bell pepper
1/4 cup diced zucchini
2 eggs plus 1 egg white
Two whole wheat tortillas, warmed
Light sour cream, or plain yogurt
4 tablespoons shredded sharp cheddar
Olive oil
Salt and pepper, to taste
Directions:
Heat oven to 400 degrees. Dice potato into small bite sized pieces and toss with olive oil, salt and pepper. Roast for 20-30 minutes, flipping halfway through. Edges will start to crisp up; this is a good thing! It will add extra texture to your dish.
In a small bowl, crack your two eggs and egg white, season with salt and pepper, and whisk together. Set aside.
About 10 minutes before potatoes are done, heat a skillet over medium heat. Add a dash of olive oil and diced onion. Saute for a few minutes until onion starts to soften, about 3-4 minutes. Add in zucchini and bell pepper, and season lightly with salt and pepper. Saute the veggies for 4 minutes or so, then add in whisked eggs. Season a bit more with salt and pepper and continue to cook for a few minutes, until eggs are done. Remove from heat.
Place warm tortillas down flat on a cutting board or plate. Top each tortilla with veggie and egg mixture, half of the potatoes, a dollop of sour cream or plain yogurt, and 2 tablespoons shredded cheddar. Wrap into burrito and enjoy!
Makes 2 servings
Copyright Kameron Tunila (Food to Thrive)