This is a refreshing, filling salad that's perfect for late summer/early fall. Full of nutritious greens, fruity figs, earthy walnuts and a simple homemade vinaigrette, this is a salad that's perfect for lunch or dinner!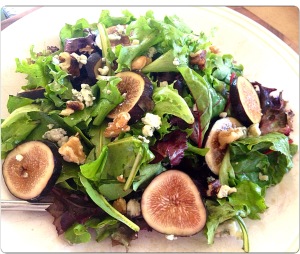 Ingredients:
 For the salad:
2 cups Spring Mix lettuce
2 tablespoons crumbled gorgonzola or blue cheese (can sub goat cheese)
4 fresh figs, thinly sliced
Handful of walnuts, roughly chopped
For the Vinaigrette:
1/2 tablespoon good quality olive oil
1/2 tablespoon fig balsamic vinegar (I love this vinegar because it adds sweetness to your vinaigrette with a touch of acidity that's necessary for a balanced dressing. It's delicious! You can sub any fruity balsamic vinegar or plain balsamic if desired.)
Salt and pepper to taste
Directions:
In a small bowl whisk together olive oil and fig balsamic vinegar. Season lightly with a pinch of salt and pepper. Set aside.
In a large bowl toss spring mix, cheese, figs and walnuts. Drizzle with dressing and toss to combine.
Enjoy!
Makes 1 Serving
Copyright Kameron Tunila (Food to Thrive)