The baked potato, a classic American dish. Everyone loves them, but I wanted to jazz up this typical dish with something a little different. Enter the sweet potato; full of flavor and packed with vitamins and minerals, this vegetable is one of the most nutrient dense vegetables available, and ranks pretty low on the glycemic index, providing you with a constant source of energy. Plus, it's so delicious and versatile! In this dish, I substituted the typical potato for it's sweet, velvety, and ulta-healthy sister, the sweet potato. Cooked to perfection and topped with black beans, veggies and a sprinkle of sharp cheddar, this meal is so filling and chock full of essential nutrients for optimal health. Enjoy!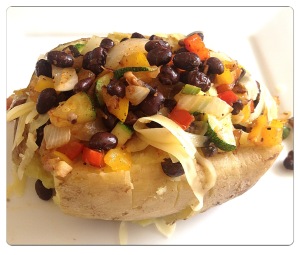 Ingredients:
1 small sweet potato
1/4 cup yellow onion, diced
1/4 cup zucchini, diced
1/4 cup bell pepper, diced (I prefer red bell pepper)
3 cremini mushrooms, thinly sliced
1/2 large shallot or 1 small shallot, thinly sliced
1/2 cup black beans, rinsed and drained
Paprika
Cumin
Chili Powder
2 tablespoons sharp cheddar, shredded
1 scallion, thinly sliced
Olive oil
Salt and pepper, to taste
Directions:
Heat the oven to 350 degrees. Clean and dry the sweet potato, and piece with a fork all over, about 10-12 times. Wrap in aluminum foil and bake for 1 hour, until center is tender.
About 10 minutes before the sweet potato is done, heat a medium skillet over medium heat with a dash of olive oil. Once warm, add diced onions and season lightly with a dash of salt. Saute for 2 minutes, then add in bell pepper, zucchini, shallot and mushrooms. Saute for another 2 minutes, and season with salt, pepper, paprika, cumin and chili powder. Add in black beans and saute for a minute or two more, until beans are warmed through and veggies are tender.
Remove sweet potato from the oven and wait a few minutes for it to cool. Remove from the foil and make a large slit lengthwise, and a few slits along the width of the potato. With a little squeeze from both ends, the potato will open up and allow more room for stuffing.
Stuff center of potato with veggie and black bean mixture, and top with shredded cheddar. Garnish with sliced scallion and serve hot. Enjoy!
Makes 1 Serving
Copyright Kameron Tunila (Food to Thrive)